Documentation for: Anheuser-Busch BEES Team
Support for: PayLink Product
PayLink Product
Overview
PayLink is an integrated, digital payment processing product designed for and
supported by Encompass Technologies. PayLink allows established merchants
(customers of Encompass Technologies) to collect and make payments. Payment
types accepted and processed by PayLink include credit card, debit card, electronic
check capture, and automated clearing house (ACH). Payments are gathered by a
merchant through a mobile app or entered manually via a website supported by
Encompass Technologies. All merchants are able to see a history of debits and
credits in their Encompass PayLink account.
PayLink and BEES Background
In December of 2022, BEES and PayLink were integrated to allow BEES users access to
PayLink via BEES. Users of BEES that are also established as merchants with PayLink
are able to login into BEES, place orders, and then enter PayLink without the hassle of
additional sign-ons and authentication requirements provided by the BEES user.
Enrollment in PayLink
To enroll in PayLink and receive payments as a merchant, a distributor must
complete a full enrollment process managed by Encompass staff. This requires legal
paperwork to be completed and authorizations to and from banks. An example of
this would be a wholesale distributor that must take payment from a restaurant
owner when they deliver a case of product to their establishment.
To enroll in PayLink, an interested party must initiate the onboarding process via
email to: PayLinkSupport@dsdlink.com

Payments Only Option
To make payments to a merchant through PayLink, any party may use a link, QR
Code, or a Guest Pay option without fully enrolling in PayLink. An example of this
would be a retail operation paying a wholesale distributor for a pallet of product.
PayLink Experience BEES → PayLink
Getting to PayLink in BEES
Web
Navigation to the Invoices Page in BEES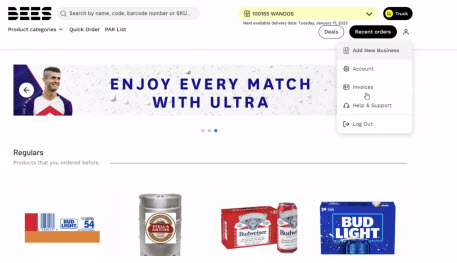 Click Make a Payment in BEES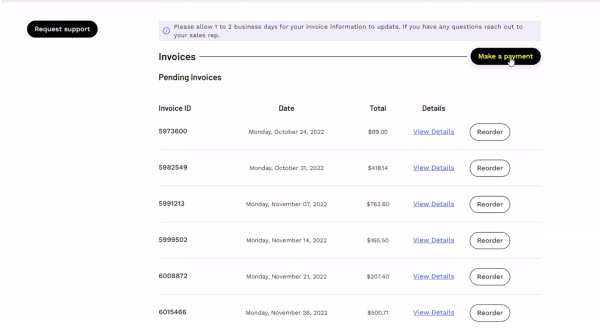 Upon clicking 'Make a Payment,' a disclaimer will be presented to the retailer
notifying them that they will be redirected to a 3rd party website to facilitate
payments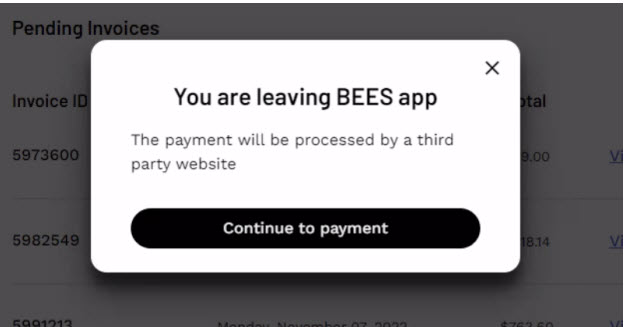 For first-time users accessing PayLink through BEES, upon a redirect from BEES, they
will be asked for a 6-digit verification code to verify the email associated with their
BEES Account. This verification ensures that the correct user is accessing PayLink
appropriately.
Note: Retailers that have verified their BEES Account email address (or previously
paid Invoices from Paylink in BEES) should be authenticated seamlessly.
The PayLink Landing Page
Below is a screenshot of what a BEES User should see logged into PayLink and
accessing the features of the product. Users are able to select individual or multiple
invoices for payment and direct payments as best meets their business needs. Past
due invoices will also show and will be selected by the system logic to be paid first.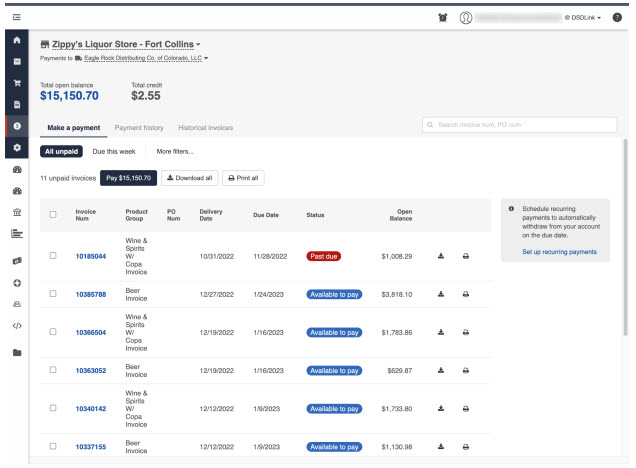 Finding Business Locations
Within PayLink, users that need to access multiple locations for their business or
businesses to pay ("Payments to:" drop down) can do so by engaging the drop down
menu located with the business name displayed on the top left corner of the screen.
iOS experience: iOS - BEES Paylink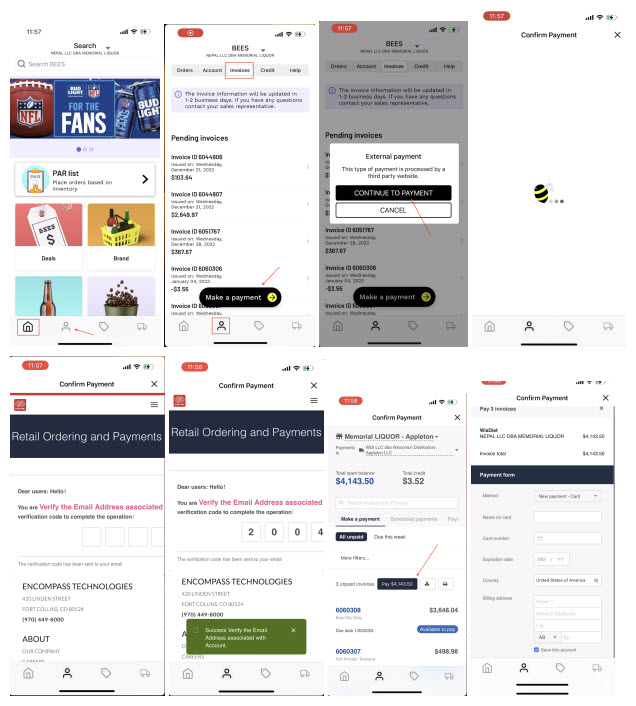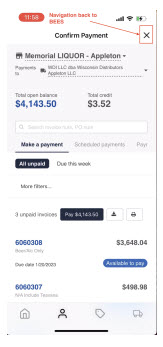 Android (Mobile) experience: Andoid.mp4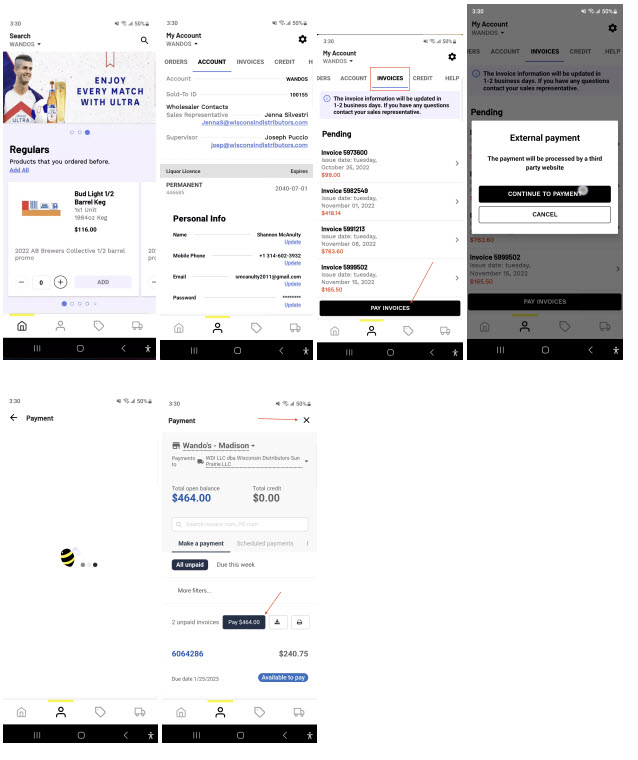 Resolving PayLink Issues
Direct Email Option
Any party using PayLink may send an email to: PayLinkSupport@dsdlink.com at any
time to request assistance. An analyst from Encompass Technologies will get back
to that person as soon as possible.

Direct Phone Option
Any party using PayLink may call 1-970-449-8000 to request assistance from the
Encompass call center.
Points of Contact
For questions related to this document, AB BEES Team members can reach out to:
PayLink Senior Product Manager - Andrew Pineda, andrew@encompasstech.com
Sr Technical Project Manager, BEES – Brad Rangel, brad.rangel@encompasstech.com
Last updated: February 9, 2023